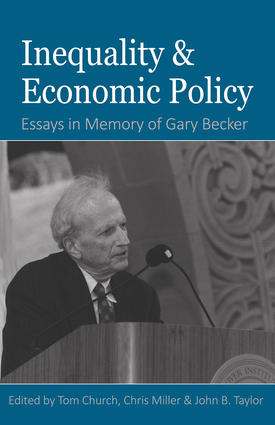 The Hoover Press
put up for free
the chapters of
Inequality and Economic Policy: Essays In Memory of Gary Becker,
edited by Tom Church, John Taylor, and Christopher Miller. You can of course still
buy the book
for a reasonable $14.95.
This includes the published version of my essay
Why and How We Care about Inequality
, also
available on my webpage
. Bryan Caplan was kind enough to
cover it positively last week
, now you can read the original. I put a
draft up on this blog
last year, so I won't repeat it all today. As usual, the published version is better.
The rest of the contents:
Chapter 1: Background Facts By James Piereson
Chapter 2: The Broad-Based Rise in the Return to Top Talent By Joshua D. Rauh
Chapter 3: The Economic Determinants of Top Income Inequality By Charles I. Jones
Chapter 4: Intergenerational Mobility and Income Inequality By Jörg L. Spenkuch
Chapter 5: The Effects of Redistribution Policies on Growth and Employment By Casey B. Mulligan
Chapter 6: Income and Wealth in America By Kevin M. Murphy and Emmanuel Saez
Chapter 7: Conclusions and Solutions By John H. Cochrane, Lee E. Ohanian, and George P. Shultz
Chapter 8: Contents by Edward P. Lazear adn George P. Shultz